Site Counter: 630,761
Unique Visitor: 2,354
Since: 10/1/07
3. The Empower-train Prototype in Uganda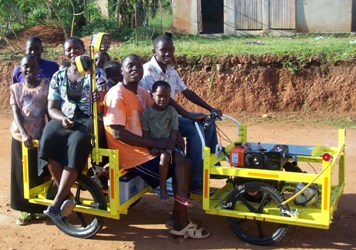 In Africa, women farmers produce, and perform the work to process, transport, and store 80% of the food, do 60% of the work to market food, and provide 90% of the water, wood and fuel.
Food production relies primarily on rain-fed agriculture, resulting in lack of food security. Small-scale irrigation can bring substantial gains, but is often too costly.
Lack of transport, storage facilities, and economic clout mean crops must sell immediately after harvest, at low prices, and they must buy food right before harvest, at high prices. This results in seasonal hunger.
Nearly 80% of these people live in rural areas and their options to improve livelihoods are largely restricted to agriculture.
The Empower-train, a hybrid veg-oil diesel electric farm vehicle is designed to help African farmers with these issues by providing decentralized power, helping to increase crop yield thru irrigation, and providing farmers with the ability to produce value added farm products and transport them to market.
Powered by both a 6 hp veg-oil diesel engine and 1 hp 24-volt DC motor. The machine is lightweight and can be disassembled for air transport. Designed to provide remote electrical power, pump water, press oil, grind grain, process vegetables, and transport a 400 lb. payload with trailer attached. With the ability to process farm outputs, and deliver product to market on demand at a very low cost, it will increase the farmer's ability to obtain the best price for their product and open up additional markets. By incorporating several pieces of equipment driven by one engine, we help leverage the initial investment to make the machine more affordable.
The diesel engine and drive components are readily available "off the shelf" parts designed for long life and rugged use. Simple belt drive for the high use, high power, equipment, with an electric drive to propel the vehicle and drive lower power equipment. This hybrid diesel /electric system, helps minimize engine running time and maximize fuel efficiency. The engine runs on a carbon neutral fuel - Sunflower oil, Jatropha oil - liquid solar energy the farmers can grow themselves.
Comparison: Horse drawn cart- 1,825 miles/acre.
The Empower-Train-7,500 miles/acre.
(Based on one acre to feed a horse for a year, or growing 100 gallons of sunflower oil)
PROTOTYPE UNDER CONSTRUCTION IN UGANDA
PROTOTYPE IN UGANDA CARRYING WATER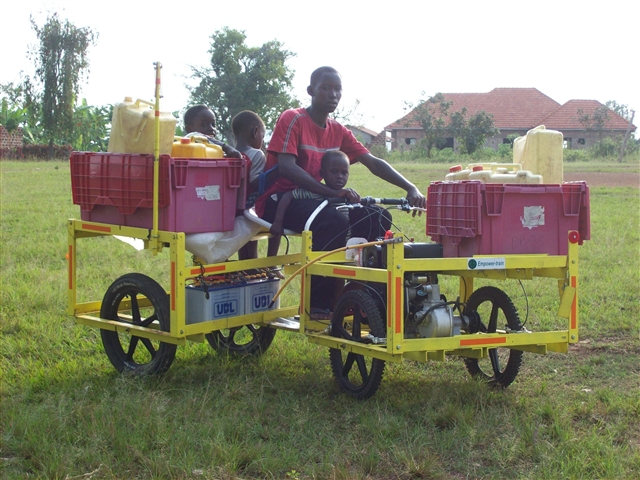 BLENDING JUICE DRINKS WITH AN INVERTER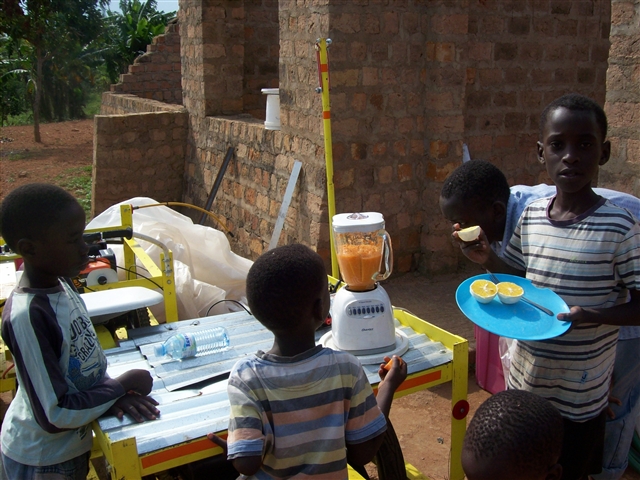 GRINDING COFFEE WITH THE BURR MILL
FINAL CONFIGURATION LEFT IN UGANDA–POWER CART AND WATER CART
LET'S HELP MAKE THEIR LIFE A LITTLE BRIGHTER
Thank you
Thank you to everyone who helped in development of the Empower-train and getting it to Uganda, Africa. The vehicle arrived as 12 extra checked containers on KLM flight 561 to Entebbe, Uganda on August 13, 2008. One container was lost in shipment, but located and retrieved 5 days later. It took 2 days to re-assemble the vehicle. The vehicle performed well. It carried many loads of water over rough roads. It was used to grind coffee beans, make juice drinks, and pump water. It was also used to charge batteries for lighting, to operate a lap top computer, and a 12 volt pump used as a shower.
Several required design changes were identified. Stronger wheels and high flotation tires are needed for the rough roads. The electric motor and controller performed flawlessly, helped reduce engine running time, and protected the batteries from over-discharge as planned. However they need additional protective covers for the often wet environment of the tropics. The vehicle batteries were used with an inverter to run a hand drill and grinder to convert it into 2 separate vehicles - a water cart and battery charging/water pumping cart.
The equipment was left with a pastor and his family to supply electrical power for their house and perform reliability testing of the engine in the tropics.
For the future? The farmers from the Kumi area indicated the additional equipment planned- a hammer mill grain grinder and oil press for sunflower seeds - would be very helpful in producing income generating products. A 4 wheel design with high flotation tires and a trailer to transport farm produce and water is now under development.
In the future we plan to work closer with orphanages. By working with children, there would be the added benefit of possibly teaching them a vocation in fabricating, assembling, and maintaining the equipment, along with the benefits of using the equipment for tasks on the farm.
Would you like to donate to support sending a new improved Empower-train to those in need?

Please call HCM at: 410-838-8299
Or e-mail harvestchapelmission@yahoo.com
Harvest Chapel Mission Inc.
1223 N. Tollgate Rd.
Bel Air, MD 21014
Click here to watch a video of The Empower-train: