Site Counter: 451,849
Unique Visitor: 41,290
Since: 10/1/07
4.1 Transportation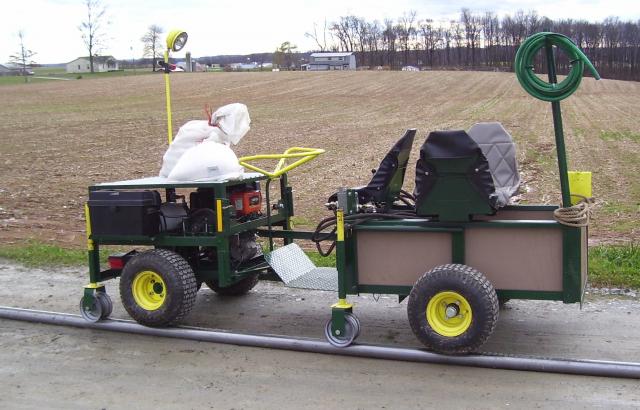 Ultra-Light-Rail-Transport (ULRT)
A community light rail system for use by bicycles and minimum powered vehicles.
Ultra-Light-Rail-Transport (ULRT)- A single rail transportation system for community use, to reduce energy consumption, traffic congestion, and help those that cannot afford existing transportation. Light weight electric, hybrid, and engine driven, minimum powered vehicles (Empower-trains) would be designed to propel themselves on rubber tired wheels for operation on regular roads, and would have a set of steel wheels on one side to engage the rail of the ULRT system. Bicycles would be able to mix with powered vehicles if speeds are maintained below 20 mph. A light weight "outrigger" could be quick connected to bicycles for use on this system. Bicycles could be mounted on a "treadmill car" that would be propelled by electrical or mechanical power generated by the bicycle. Alternatively, the bicycles could be pulled by solar powered electric tow vehicles.
The advantage of a single rail system is that it eliminates the need to maintain an accurate spacing or "gauge" between rails on a 2 rail system. This single rail design also leaves rubber tire wheels in contact with the ground for better braking. The simplest form of the idea would be an inverted "V" or pipe rail with a reinforced concrete base. A piece of structural steel angle, or standard water pipe bolted to one side of an existing sidewalk would be one way to construct a prototype. An optimized production version might be constructed with a recessed rail, and precast "keyed" reinforced concrete sections, layed out in both directions along existing roads. A track siding would not be required because vehicles could easily get on and off the guide rail. With ULRT vehicles delivering new sections as construction progressed, the rail could be built with hand labor only.
Modern trains are a very efficient way to transport goods. Transporting 1 ton of freight up to 400 miles on a gallon of fuel. Why not apply this transport efficiency on a smaller more local scale that is accessible to many people? Many inner cities, in the U.S. and abroad, are experiencing congestion problems. A covered ULRT system could operate from satellite parking areas to help make city centres, car and truck free zones. Trucks could make deliveries after normal work hours. This might be included in a city revitalization effort to make a city more "green" and people friendly. As prices for fuel and transport increase those that have lower income find it harder to make ends meet. This type of low cost, low impact, mass transit would help those living on the margin in developing countries the most.
If I can dream a little…Dateline 2020…Philadelphia and it's sister city Kampala have teamed up to install hybrid, 6 seat ULRT trains. People can stop the train with hand held radio receivers when in range. Satellite GPS receivers ensure trains stay separated by a minimum safe distance. Eco tourists are using these trains to visit points of interest. High speed (40 mph) cargo ULRT rails to city airports carry a constant flow of export items…Coffee, dried herbs and fruit to Philadelphia…used bicycles and manufactured goods to Kampala …rail lines outside Kampala bring fresh farm products inbound and deliver bread, equipment, and filtered water outbound…this water is filtered by Moringa seed and UV light as it is transported….Children are using the train to go to school…Philadelphia is experimenting with elevated ULRT trains for commuters…The future is looking a little brighter and a lot more sustainable…
.