Created

07/09/2011 - 10:41

Updated

01/19/2020 - 12:23

Created

11/17/2013 - 11:37

Updated

01/19/2020 - 12:22

Created

11/04/2013 - 21:51

Updated

01/19/2020 - 12:17
Site Counter: 456,698
Unique Visitor: 41,658
Since: 10/1/07
2. Updated Empower-train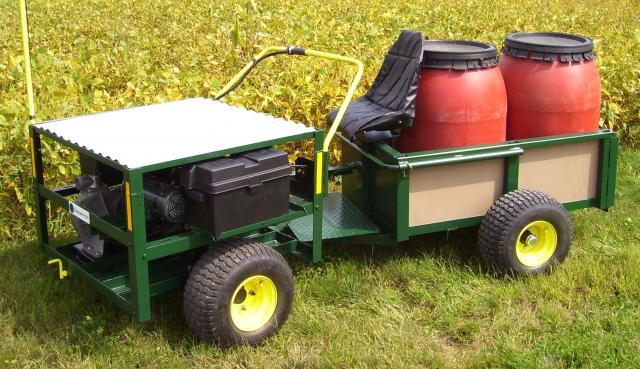 Designed to Empower with Sustaining Technology
Specifications:
Power – 10 HP

Drivetrain – 2 wheel front or 4 wheel hydraulic 2 speed (Fwd/Rev)

Max Speed – 10 MPH


Standard Payload – 1200 LBS. (2000 LB Overload Capacity)

Fuel – Diesel/Vegetable Oil
Hydraulic oil – Bio-degradable, vegetable based

Mileage – 40 MPG +

Range With Full Tank – 95 Miles
Hi – Flotation Tires 18 x 8.5 – 8 Turf tread with Flat Prevention Filler

Front Tire Chains for Traction (Optional)

3 Years or 1000 Hours to First Overhaul

The energy content of one gallon of vegetable oil or
diesel fuel is roughly equivalent to the physical labor
of one person for 3 weeks
Equipment Options:
24 Volt 50 Amp Alternator

7500 GPM Water Pump (26' Suction/Max. 164' Head)
2 – 12 Volt Deep Cycle Starting/Marine Batteries

Flour Burr Mill

Hammermill – Grinding Produce/Feed/Mulch

Oil Press – 12" Double Acting Cylinder with Controller

Concrete Mixer (Hydraulic driven drum)

Clothes Washer (Hydraulic driven drum)

Punch Die/Shear/Bend Brake to fabricate vehicle frames (Using Oil press)
2 – 12 Volt Work/Running Lights with 25' Extension Chords

2500 Watt Inverter

12 Volt on Demand Water Pump (Optional)

12 Volt Fuel Heater (Optional)

12 Volt Air Compressor (Optional)
Buy only what you need now and easily add equipment later
Quick change of equipment (under 2 minutes)
Multi-use to Leverage Initial Investment
Design Uses:
Transport – 1200 LB Payload up to 5 people

Water Hauling – 2 - 55 Gallon Water Drums

Water Pumping/Irrigation – 2-10 Acres/Day

Decentralized Electric Power – Battery Charging/Lighting

Oil Press – 50 Gallons/Day

Flour Grinding (Burr Mill)

Feed/Produce Grinding (Hammermill)

Garden Tilling

Concrete Mixing

Clothes Washing
Hand Cart/Wheel Barrow

Vending Cart

Inverter 110v Power –For Radio, Food Blender, Computer, Television
Affordable:
- 5 Kw per day solar system $4500 USD
- 6 Kw per hour Empower-train $3500 USD
The most innovative feature of the Empower-train is perhaps the designed in variety of the equipment to give farmers the freedom to explore many options to increase their farm income.
Farmers can utilize the features of this machine that suit their particular needs most.
One farmer may want to irrigate in the morning, transport their kids to school, and bring produce to market in the afternoon.
Another farmer, without much land, may want to perform contract irrigation, grain grinding, and oil processing while also charging batteries to light homes.
It transports, it grinds, it lights, it pumps, it presses,
It Empowers!
Would you like to donate to help send an Empower-train Farm Vehicle to those in need? Please visit our fundraising page.